Take a break in Leitrim
Everything you need for a great holiday in Ireland.
Leitrim Tourism Network
Leitrim Tourism Network has been in existence for 3 years. It is a collaboration of tourist related businesses in the county who are working together to support and develop tourism in County Leitrim, working in conjunction with all stakeholders. The members to date include accommodation, restaurants, bars, arts and crafts people, transport companies, entertainment, activities, attractions and community groups. Our aim is to provide the visitor with truly memorable experiences suited to all tastes. The network believes that economic and social development is a joint effort between the private and public sectors working in partnership with the community. Come visit the county with the smallest coastline and the biggest welcome
Discover Leitrim
Leitrim is Ireland's hidden gem. One of the smallest counties in Ireland, it has some of the most beautiful landscapes - from mountains and lakes to 2.5 km (1.6ml) of rugged coastline. If you want city life and hustle and bustle Leitrim isn't the place! With small traditional towns and villages and miles of unexplored hills, lakes and forest Leitrim is a place to turn back time and experience traditional Irish hospitality.
What makes Leitrim such a great place to stay?
From the Wild Atlantic Way to the Leitrim Lakelands, Leitrim has so much to offer including a vast choice of great places to stay, excellent visitor attractions, shops, pubs and restaurants. The natural landscape lends itself so well to activities including walking, running, road & mountain biking, canoeing, rock climbing and lake cruises to name just a few. The vast range of Leitrim accommodation available is second to none, ranging from simple camping or glamping right through to the most luxurious B&B and self catering holiday homes. Whatever your taste and budget you can be assured of finding the ideal place to stay in the Lakelands or along Wild Atlantic Way.
Whats On
Find things to do in Leitrim this weekend. The most popular Leitrim events, like concerts, movies, comedy, nightlife, family events, and more.
More things to do..
Check out our comprehensive guide to activities and attractions in and around Lovely Leitrim. Our area, also known as the ancient kingdom of Breifne includes the Leitrim Lakelands and the Wild Atlantic Salmon route, is bordered by Sligo, Cavan, Fermanagh, Donegal and Roscommon. Here are a selection of the main attractions which include Enniskillen Castle, Parkes Castle, Glencar Waterfall, Costello Chapel, Arigna Mines, Lissadell House, Marble Arch Caves, Boyle Abbey, Lough Key Forest Park, Cavan Burren and Bundoran Water Park.
Leitrim Tourism Network
Leitrim Tourism Network aims to market the region as Ireland's premier, quality, natural lakeland destination, whilst highlighting the wide range of tourist activities, attractions, heritage, wellbeing and culture on offer. Leitrim Tourism Network will try to ensure the growth of the tourism industry and maximise its contribution to the local economy. The Network members work to enhance the partnership between the private and public sector, building on their strengths to promote the lakeland region as the premier tourism destination. Leitrim Tourism Network is working on cutting % costs for small to medium size businesses by discount packages on your operational costs.
The History of Leitrim
In ancient times Leitrim formed the western half of the kingdom of Breifne. This region was long influenced by the O'Rourke family of Dromahair and Manorhamilton, whose heraldic lion occupies the official county shield to this day. Close ties initially existed with the O'Reilly clan in the eastern half of the kingdom, however a split occurred in the 13th century and the kingdom was divided into East Breifne, now County Cavan, and West Breifne, now County Leitrim.
The Normans invaded in the 13th century and occupied the south of Breifne. Much of the county was confiscated from its owners in 1620 and given to Villiers and Hamilton. Their initial objective was to plant the county with English settlers. However, this proved unsuccessful. English Deputy Sir John Perrot had ordered the legal establishment of "Leitrim County" a half-century prior, in 1565. Perrott also demarked the current county borders around 1583. Five forests are traditionally said to have stood in Leitrim up till the 17th century.
Seán Mac Diarmada (27 January 1883 – 12 May 1916), also known as Seán MacDermott, bron in Corranmore, close to Kiltyclogher in County Leitrim was an Irish political activist and revolutionary leader in 1916 rising in Dublin. He was one of the seven leaders of the Easter Rising of 1916, who helped to organise as a member of the Military Committee of the Irish Republican Brotherhood (IRB) and was a signatory of the Proclamation of the Irish Republic. He was executed for his part in the Rising at the age of thirty-three
The Selton Hill Ambush took place on 11 March 1921, during the Irish War of Independence. An Irish Republican Army flying column was ambushed by members of the RIC Auxiliary Division at Selton Hill (aka Seltan Hill),in the Ballinmore area in County Leitrim. Six IRA officers of the Leitrim Brigade were killed.
Historic buildings are the "Carrick Castle", the Workhouse and Famine Graveyard, Hatley Manor, St George's Church of Ireland, Costello Chapel, Lough Rynn Estate, Fenagh Abbey, Margaret of New Orleans Homestead, Creevelea Abbey and Parkes Castle.
Working of the county's rich deposits of iron ore began in the 15th century and continued until the mid 18th century. Coal mining became prominent in the 19th century to the east of Lough Allen in Sliabh an Iariann and also to the west in Arigna, on the Roscommon border. The last coal mine closed in July 1990 and there is now a visitor centre called Arigna mines. Sandstone was also quarried in the Glenfarne region.
William Butler Yeats spent the turn of the twentieth century fascinated with Lough Allen and much of Leitrim. Glencar Waterfall, 11 kilometres (7 miles) from Manorhamilton, inspired Yeats and is mentioned in his poem The Stolen Child.
Before the Irish Potato Famine of the mid 19th century county Leitrim had a population of over 115,000 which fell to 29,000 by the 1980s. In the twenty first century Leitrim's population began to expand again and Leitrim now has the fastest growing population in Connacht around 32,000 people in total.
150 things to see and do in Leitrim and the surrounding area
Parkes Castle
Lough Gill Waterfalls
Rose of Innisfree Boat Tour
Troll Wood Walk
Giant's Grave
O'Rourke's Table
Slish Wood
Sleeping Giant
Creeveylea Abbey
Lough Gill Fishing
Lough Doon Fishing
Hazelwood Lake Trail
Leean Mountain Walk
Shriff Bay
Sir Roberts Point
River Bonet Fishing
Sup For All/Paddle boarding
Adventure Gently
Leitrim Crystal ( Parkes Castle Centre)
Ard Nahoo Eco Retreat
Tour De Humbert Cycling Trail
The Clubhouse Restaurant
Stanford's Village Inn
Carrigeencor Lake Fishing
Dromahair Irish Dancing Centre
Paddle Monkey Dromahair
Keelogyboy NHA Park
Hazelwood House
Bertie's Pitch& Putt
Calry Play Ground
Hazelwood paintballing
Deerpark Walk
Leitrim Blueway
Lissadell House
Maeve's Cairn
Glencar Waterfall
Sligo Abbey
WB Yeats' Grave
Hawks Well Theatre
Knocknarea Arena
Hamilton Gallery
Drumcliffe High Cross and Round Tower
Arigna Mining Experience
Carrowmore Passage Tombs
Knocknarea Amenity
Strandhill Beach
Rosses Point Beach
Rosses Point Golf Club
Sligo Folk Park
North Leitrim Greenway
Strandhill Market
Sligo County Museum
Benbulbin Forest Walk
Rathcormac Market
Union Wood
Dooney Rock
Manorhamiton Castle
The Glens Centre
Grange Armada Museum
Dartry Mountain walk
Lurganboy Walk
Lurganboy Church 1800's
Glencar Lake Fishing
Drumcliff River Fishing
Moorlands Equestrian Centre
Electric Bike Trails Ltd
Lough Allen Adventure Centre
O'Donnells Rock
Raghley Harbour
Sligo Yacht Club
Castle Dargan Golf Course
Lough Arrow Fishing
Rosses Point Sea Angling Charter
Dooney Rock
Slish Wood
Union Wood
Sligo Pubs and Restauants
Leitrim Sculpture Centre
Famine Graveyard Manorhamilton
Manorhamilton Star Fort
Marble Arch Caves
Lough Key Forest Park
Irish Raptor Centre
Slieve Liag Boat Tour
Mullaghmore Headland
Ballintrillick Horseshoe
Raghley Harbour
Boyle Abbey
King House
Belleek Pottery Centre
Heapstown Cairn
CarrowKeel Passage Tombs
Leirim Design House
Cavan and Leitrim Railway
Bluebell Woods Ardcarne
The Drowes Fishery
Courthouse Restaurant Kinlough
Creeveykeel Court Tomb
Kinlough Folk Museum
Dartry Mountain
Lough Melvin Fishing
Fowley's Falls
The Organic Centre
Ballagh Centre Rossinver
The Dock, Carrick on Shannon
Costello Chapel
Belcoo Cottage Lawn
Ballroom Of Romance Museum
Lough Mac Nean Fishing
Seán Mac Diarmada House
Lisdarugh Ring Fort
Lough Mac Nean Sculpture Trail
Lough Mc Nean Play Area
Whitefathers Caves
Blacklion Golf club
Lough MacNean Bistro
Neven Maguire Cooking School
Cavan Burren
Florencecourt House& Forest Park
Belleek Pottery Centre
The Cavan Way
Bundoran Surfing Schools
Shannon Pot
Hanging Rock
Lower Lough Mac Nean
Benaughlin
Gortaloughany
Shannon-Erne Waterway
Marlank
Belmore Forest
Gortmaconnell Rock
Cuilcagh Mountain Park
Crossmurrin and Killkeegan National Nature Reserve
Cladagh Glen
St Patrick's Holy Well
Corralea Activity Centre
Garrison Pubs
Slieve League Cliffs, Donegal
Ceide Fields, Mayo
Giant's Causeway, Antrim
Westport House
Museum of Country Life
Donegal Castle
Strokestown House
Cruachan Aí
Glenveagh National Park
Enniskillen Castle
Ulster-American Folk Park
Aughris Head
Enniscrone
Croagh Patrick
The Walls of Derry
Clonmacnoise Monastic Settlement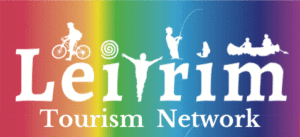 Leitrim Tourism Network
Leitrim Tourism Network is a group of businesses who work together to support and develop county Leitrim as a sustainable tourism destination.
Leitrim.IE
The official gateway to Leitrim, www.leitrim.ie has lots of useful information for businesses, community groups and sports organisations.
Leitrim Tourism
Leitrim Tourism Office is managed by Leitrim County Council to promote county Leitrim as a tourism destination and support local tourism businesses.